While my fantasy series The Hounds of the North takes place in a thinly disguised European- and African-inspired world, I have a strong background in the study of Asian martials arts. So this got me thinking. If my next series were to be written in a Chinese-influenced fantasy world, what would be the outlandish Chinese Weapons that I would include somewhere in my stories.
I didn't want to imagine the typical Chinese Weapons like the spear, sword or staff. I wanted to think about the kinds of weapons you only find in those last night kungfu movies or those old-time video games.
Disclaimer: I did consider including the flying guillotine as one of the weapons but I am not sure that this Chinese Weapon ever really flew at anyone's head except in movies.
Here's my top 5 Exotic Chinese Weapons that might find their way into my next story
1) The Rope Dart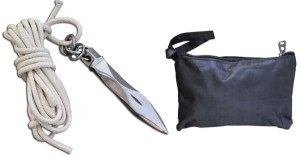 According to Wikipedia
[box]The rope dart is a long rope (usually 3–5 metres or 10–16 feet) with a metal dart attached to one end. This was a weapon from ancient times, which allows the user to throw the dart out at a long-range target and use the rope to pull it back. The rope dart can be used for twining, binding, circling, hitting, piercing, tightening, and other techniques.
Rope dart play consists of twining, shooting, and retrieval. Twining and shooting can be done from any joint such as foot, knee, elbow, and neck. The rope is anchored on the left hand and played primarily with the right hand.
Skillful use of the rope dart can easily trick an opponent because the dart can shoot out very suddenly, from a person beyond immediate reach.[/box]
Here's a video of the weapon darting out to strike:

2) The Guandao
Next up on the list of weapons is the Guando, a heavy bladed weapon mounted on a pole and  comparable to a European fauchard or glaive. This was a legendary weapon of the larger-than-life Chinese General Guan Yu whose fictionalized stories were found in the Romance of the Three Kingdoms.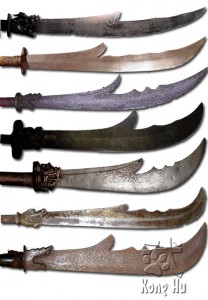 According to Wikipedia:
[box]In actual combat a guandao, or any other member of the family of long handled sabers, was used to hack and slice through an opponent. The considerable weight of the blade and the leverage of the handle would have allowed it to cut through most leather, chain, scale or light lamellar armor of medieval China, suggesting that it was an offensive and not a defensive weapon.[/box]
Here a video of a Guandao form from legendary Taiji Master Chen Xiaowang:

3) The Meteor Hammer
Next up in our list of exotic weapons is the big brother of the rope dart: the Meteor Hammer.
This performance is made all the more bad ass because the practitioner is wearing dress shoes, slacks and a V-neck sweater.
4) The Deer Horn Knives
Next up are a nasty pairs of weapons, the deer horn knives, which were associated with Baguazhang, one of the Chinese Martial Arts that I previously studied. These crescent-shaped handheld blades are used for entrapping, hooking, and slashing as well as tying up an opponent's weapons.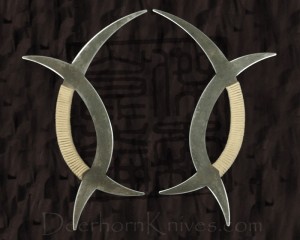 The deer horn knives are a specialty weapon of Bagua, an art that focuses on the idea of circle walking in the practice of its forms:

5) The Emeici
We close out with a vicious weapon, small pointed rods attached to ring that you slip your finger through.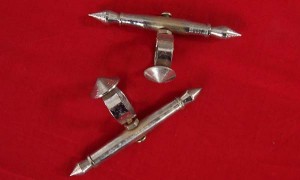 Emeici, also known as Emei daggers, are close range weapons that are easy to conceal.
What exotic Chinese weapons am I missing?