Learning how to beat people up has improved my writing.
All right, maybe not exactly beating people up.
But the lessons I have learned in my study of martial arts, and especially competing in Brazilian Jiu Jitsu, a style of submission grappling, have made me a stronger writer.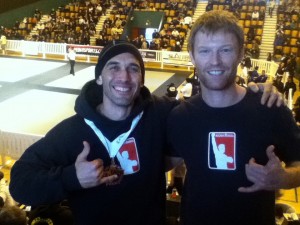 Here are the top 5 lessons that I have learned by competing in Brazilian Jiu Jitsu that I have transferred over to my writing life.
1) Set a Goal
You cannot just wander through any kind of practice or study – whether fighting or writing – without a goal. You need to get a compass, pick a direction and follow it. Early on in your practice it is about just being oriented to the world of what you are pursuing and in many ways determining whether it is something in which you want to dabble or more deeply pursue.
When you make that decision to do something more than just show up, you need to set goals to deepen your practice
Examples of jiu jitsu goals:
Learning a move
Tapping out a training partner with specific submission
Getting your next belt
Entering a competition
Examples of writing goals:
Writing a complete novel
Participating in NaNoWriMo
Submitting a short story
Self publishing a novel
So what does establishing a goal change? It creates an intention, and the work is formed by this intention,
2) Show Up and Do the Work
When you tell people that you are a writer, how many people tell you that they've got this great idea for a novel or screenplay in their head, and they've had it there for the past ten years?
When you tell people you study a martial arts, how many people throw a few punches in the air and say, "Yeah, I've always wanted to do that."
Lots of people talk about what they dream. But so few people actually pursue those dreams.
One of the most important lessons I learned in Brazilian Jiu Jitsu was that if I wanted to get better, if I wanted my next belt, if wanted to medal at a competition, I needed to show up and do the work.
Same thing with writing.
You can't just talk or think about it. You have to do it.
Here's what it means to show up and do the work in jiu jitsu:
Get on the mat as often as you can
Be consistent in your training which includes set days to show up (put it in your calendar)
Have a plan to measurably achieve your goals
Here's what it means to show up and do the work with your writing:
Sit down every day and write,
Set aside a specific time and place (like attending a jiu jitsu class),
Have a daily writing goal (for example, 1,000 words per day)
3) Trust the Process
Whether we are talking about jiu jitsu or writing, you will encounters set backs and self doubt.
In jiu jitsu, here are some of the challenges you will face:
Not being able to make techniques work in live rolling
Tapping out to a lower belt
Over training/exhaustion during the final rolls of the night
Losing competition matches in front of a crowd
In writing, challenges include:
Writer's block – those periods of time when you can't get words on a page
Criticism (not only about the writing itself but about your dreams as a writer)
Rejections from agents and publishers
The solution to these challenges is simple.
Trust the process. Embrace the big picture.
Keep showing up on the mat. Keep putting words on the page.
4) Focus on the Big Event
Sometimes just putting in the hours every day is not enough. So instead of focusing on a process goal, such as writing for an hour every day or training 3 days per week, you need to make a larger more public goal that will make the hard work a reality.
In jiu jitsu, this big event is a competition. And by declaring this goal, you work takes on a new focus:
You have a specific date for the competition so everything funnels towards this
You start training and conditioning 8 weeks out
You develop a game plan for how to beat your opponents
You mentally prepare
Then you show up
In writing, the big event is publication.
Again, you set a specific date (whether it is the deadline for a submission or self-publishing)
You commit to a schedule to meet that deadline
You hammer through drafts, get feeback, edit, and polish
Then you submit or publish
5) There is No Finish Line
The most important lesson to realize when you are pursuing your passion is to realize that there is no finish line.
Win or lose, you've chased your dream. You are not talking about it. You are living it.
So after a big event, kick up your feet, drink a beer,  or take a nap – climb out of your writing or training hole to say hi to family and friends.
Maybe you won the gold, or maybe you got the story published,
Or maybe you simply competed or submitted a work.
So now what?
Fight, rinse, repeat.
Write, rinse, repeat.
Whether we are talking about fighting or writing, it's a process. It's a journey not a destination. Enjoy the ride.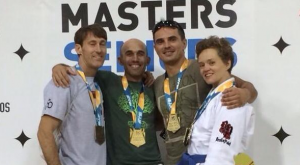 Interested in the Intersection of Fighting and Writing?
---
Sign up for my newsletter today and I will send you a free short story! I'll keep you updated on new free content and when my newest books are available, including on upcoming series to help writer's bring more realistic martial arts into their books.

[otw_is sidebar=otw-sidebar-1]