While my Hounds of the North fantasy series was inspired by Northern European history with a heavy nod to Vikings, Celts, and Picts, my current series is inspired by Southeast Asia.
Indonesia is a fantastic place with friendly people and diverse cultures, magical forests, and amazing ocean life.
So I got to thinking about what Indonesian weapons I might include in this series.
Here's my top 4 Fantastic Indonesian Weapons
1) The Kris Dagger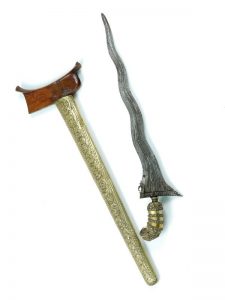 The kris is both a weapon and spiritual object, originally made by combining iron and meteor stone.
According to Wikipedia
The kris is famous for its distinctive wavy blade, although many have straight blades as well.

Kris have been produced in many regions of Indonesia for centuries, but nowhere—although the island of Bali comes close—is the kris so embedded in a mutually-connected whole of ritual prescriptions and acts, ceremonies, mythical backgrounds and epic poetry as in Central Java.

Both a weapon and spiritual object, kris are often considered to have an essence or presence, considered to possess magical powers, with some blades possessing good luck and others possessing bad.
Here's a video of about the history and cultural significance of the kris:

2) The Celurit
Next up on the list of weapons is the Celurit, a sickle shaped blade used both for agriculture and in the Indonesian martial art of Pencak Silat.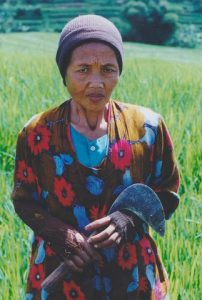 Here a video of a celurit for martial arts purposes:

3) The Bambu Runcing
Next up in our list of exotic weapons is the bambu runcing, a traditional spear made of sharpened bamboo.
According to wikipedia:
During the Majapahit kingdom in the 15th century, Bambu Runcing fighting was practiced on the island of Java. The fights were performed in front of the king and queen in an open field. Both parties are headed by one man holding a Bambu Runcing, accompanied by their wives and servants. Their wives are armed with wooden staff with a length of about 1 m. Upon the signal of the drum, both men will fight three rounds with the Bambu Runcing. When their wives begin to shout "Larak, larak" (which means, retreat in Javanese language), so will the fight too for a moment. In an event where one of the men died from stabbing, the king will then order the victor to compensate the family of the dead, but the wife of the dead will be his.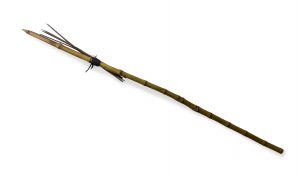 In modern times, the bambu runcing symbolizes courage and sacrifice in achieving independence.
4) The Karambit
The vicious looking Karambit is next up. This curved knife, apparently inspired by a tiger's claw, is used for entrapping, hooking, and slashing as well as tying up an opponent's weapons.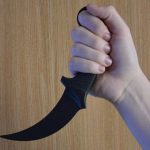 Here is a video of the karambit in play:

Like other Indonesian weapons, the karambit was originally a farm implement.
Save
Save
Save
Save
Save
Save
Save
Save
Save
Save
Save
Save
Save
Save
Save
Save
Save
Save
Save
Save
Save